Course Plans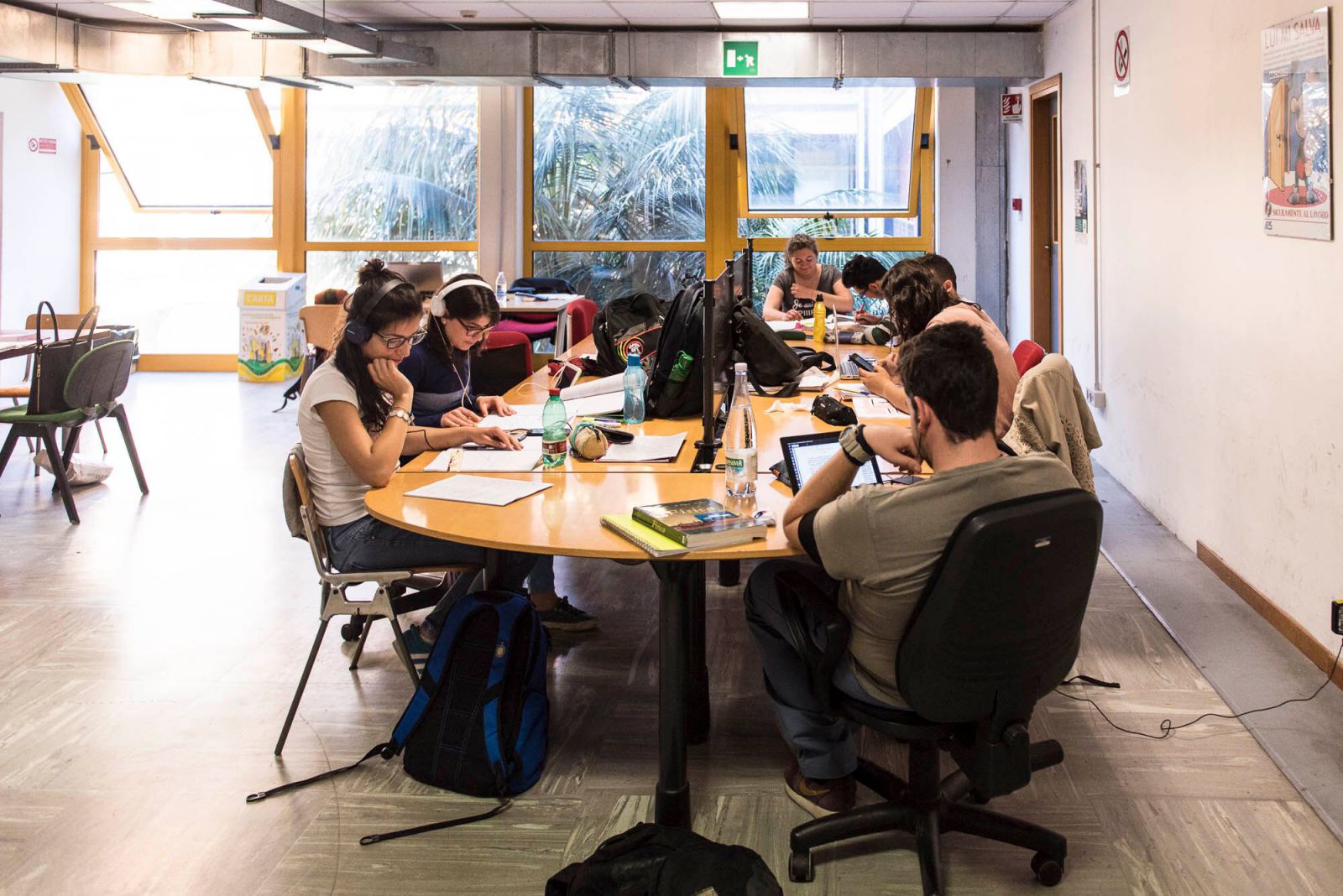 The Master of Science in Physics is currently organized into five curricula:
The first year can include teachings in common among the five curricula, structured so as to complete the basic training that students have acquired during the three-year Bachelor's Degree in Physics.
Other specialistic and related courses (all characterized by 6 ECTS; ECTS = European Credit Transfer System) are organized to provide students with skills relevant to each specific curriculum.
In each Curriculum, students have the option to choose between some of the teachings, usually characterizing the Curriculum, which are also referred to as optional (indicated by green character in the tables relating to each training course).
It is also possible to present personalized study plans. The replacement of one or more subjects included in the curriculum, respecting the legal constraints, is consiedered as a personalized study plan. The personalized study plan request, together with the cultural motivations that inspire it, shall be submitted in the manner and time foreseen in the Academic Regulations of the University, to the Council of the Master of Science for possible approval .
Moreover, the students should supplement their curriculum with the training activities referred to as "student choice", for a total of 12 Credits. To do this, the student can make a choice between all the teachings scheduled in the University, provided they are consistent with the educational plan and adequately motivated. The validation of the choice of the training activities will be decided by the Council of the Master of Science.
For information or advice on how to organize the plan of study, the student can contact the referent of the Curriculum or the Coordinator of the Master Degree .
Students of previous cohorts, who enroll in the second year, can change their study plan. Please remember that in order to be admitted to the second year, students must have acquired 24 Credits .
Also remember that the lessons, if agreed by the students, or in the presence of foreign students, will be provided in English.
COURSE PLANNING - ACADEMIC YEAR 2015/2016
---
Coordinator: Prof. Alessandro Lanzafame
---

1st YEAR

COURSE

TEACHER

SSD

DEFINITION

SEMESTER




ADVANCED QUANTUM MECHANICS




CASTORINA P.




FIS/02




Caratterizzante




1° 




STRUCTURE OF MATTER




ANGILELLA 
G.G.N.




FIS/03




Caratterizzante




1° 




ADVANCED STATISTICAL MECHANICS 




RAPISARDA A.




FIS/02




Affine o integrativa




1° 




NUCLEAR AND
SUBNUCLEAR PHYSICS




BELLINI V.




FIS/04




Caratterizzante




1° 




ASTROPHYSICS 

LABORATORY

 I




LEONE F.




FIS/01




Caratterizzante




1° 




ASTRONOMY




BELVEDERE G.




FIS/05




Caratterizzante




1° 




ASTROPHYSICS /




GALACTIC AND
EXTRAGALACTIC 

ASTRONOMY




LANZAFAME A. /




BELVEDERE G. & 
DEL POPOLO A.




FIS/05




Caratterizzante /




Opzionale




2° 




MAGNETOHYDRODYNAMICS




ZUCCARELLO F.




FIS/05




Caratterizzante




2° 




ASTROPHYSICS LABORATORY II




LEONE F.




FIS/01




Affine o integrativa




  2° 




FREE COURSE 




 


 




A scelta




  2° 


2nd YEAR




SOLAR PHYSICS /




RADIOASTRONOMY /




COSMIC RAY PHYSICS




ZUCCARELLO F. /




TRIGILIO C. /




CARUSO R.




FIS/05






Caratterizzante /




Opzionale




1° 




SPACE PHYSICS




PIRRONELLO V.




FIS/05




Caratterizzante




1° 




FREE COURSE 




 


 




A scelta




1° 
---
Coordinators: Prof. Josette Immè and Prof. Anna Gueli
---

1st YEAR

COURSE

TEACHER

SSD

DEFINITION

SEMESTER




ADVANCED QUANTUM MECHANICS




CASTORINA P.




FIS/02




Caratterizzante




1° 




STRUCTURE OF MATTER




ANGILELLA 
G.G.N.




FIS/03




Caratterizzante




1° 




ADVANCED STATISTICAL MECHANICS




RAPISARDA A.




FIS/02




Affine o integrativa




1° 




NUCLEAR AND SUBNUCLEAR PHYSICS




BELLINI V.




FIS/04




Caratterizzante




1° 




PHYSICS OF THE ENVIRONMENT





IMME' G. 





FIS/07




Caratterizzante 




1° 




ARCHAEOMETRY




GUELI A.




FIS/07




Caratterizzante




2° 




ELECTRONIC AND APPLICATIONS / 
ENVIRONMENTAL RADIOACTIVITY 







LO PRESTI D. /




ROMANO S. 




FIS/01




Caratterizzante /




Opzionale




2° 




IMAGING ANALYSIS AND
 FUNDAMENTALS OF DOSIMETRY / 
BIOFISICA




GUELI A. / 
MUSUMECI F.




FIS/07




Caratterizzante 
/ Opzionale




2° 




ENVIRONMENTAL PHYSICS LABORATORY 




IMME' G.




FIS/01




Caratterizzante




  2° 




FREE COURSE 




 


 




A scelta




  2° 




2

nd

 YEAR




SPECTROSCOPY




REITANO R.




FIS/03





Caratterizzante 




1° 




APPLIED PHYSICS COMPUTING




RUSSO M.




INF/01




Affine o integrativa




1° 




FREE COURSE


 


 




A scelta




1° 
---
Coordinator: Prof. Maria Grazia Grimaldi
---



1

st

 YEAR

COURSE

TEACHER

SSD

DEFINITION

SEMESTER




ADVANCED QUANTUM MECHANICS




CASTORINA P.




FIS/02




Caratterizzante




1° 




STRUCTURE OF MATTER (SOLID-STATE PHYSICS)




ANGILELLA 
G.G.N.




FIS/03




Caratterizzante




1° 




ADVANCED STATISTICAL MECHANICS 




RAPISARDA A.




FIS/02




Affine o integrativa




1° 




NUCLEAR AND SUBNUCLEAR PHYSICS 




BELLINI V.




FIS/04




Caratterizzante




1° 




MATERIALS AND NANOSTRUCTURES  LABORATORY




BONINELLI S.


 




FIS/01




Caratterizzante




1° 




SEMICONDUCTORS AND SUPERCONDUCTORS 




PRIOLO F. 

& 
PALADINO E.




FIS/03







Caratterizzante




2° 




QUANTUM OPTICS /




QUANTUM PHASES OF MATTER




PICCITTO G. /




AMICO L. 




FIS/02




Caratterizzante /




Opzionale




2° 




PHOTONICS




PRIOLO F.




FIS/03




Caratterizzante




2° 




PHYSICS OF MATERIALS




TERRASI A.




FIS/01




Affine o integrativa




  2° 




FREE COURSE




.




.




A scelta




  2° 




2

nd

 YEAR




SPECTROSCOPY /




QUANTUM TRANSPORT





REITANO R. / 
FALCI G.







FIS/03







Caratterizzante /




Opzionale




1° 




PHYSICS OF NANOSTRUCTURES 




GRIMALDI M.G. 

& 
RUFFINO F.




FIS/01




Caratterizzante




1° 




FREE COURSE


 


       




A scelta




1° 

 
---
CURRICULUM: NUCLEAR AND SUBNUCLEAR PHYSICS
Coordinators: Prof. Giuseppe Politi and Prof. Alessia Tricomi
---

1st YEAR

COURSE

TEACHER

SSD

DEFINITION

SEMESTER




ADVANCED QUANTUM MECHANICS




CASTORINA P.




FIS/02




Caratterizzante




1° 




STRUCTURE OF MATTER




ANGILELLA G.G.N.




FIS/03




Caratterizzante




1° 




ADVANCED STATISTICAL MECHANICS




RAPISARDA A.




FIS/02




Affine o integrativa




1° 




NUCLEAR AND 
SUBNUCLEAR PHYSICS




BELLINI V.




FIS/04




Caratterizzante




1° 




NUCLEAR AND SUBNUCLEAR PHYSICS LABORATORY




POLITI G.




FIS/01




Caratterizzante




1° 




THEORY OF SUBNUCLEAR 
INTERACTIONS 




GRECO V.




FIS/02




Affine o integrativa




2° 




PHYSICS OF ELEMENTARY  PARTICLES I/




NUCLEAR STRUCTURE




ALBERGO S. /




CAPPUZZELLO F.




FIS/04




Caratterizzante /




Opzionale




2° 




NUCLEAR ASTROPHYSICS




SPITALERI C.




FIS/04




Caratterizzante




2° 




EXPERIMENTAL METHODS FOR PARTICLE PHYSICS / 
EXPERIMENTAL METHODS FOR  NUCLEAR PHYSICS




ALBERGO S. & 
TRICOMI A. / 
RIGGI F.




FIS/01




Caratterizzante /




Opzionale




  2° 




FREE COURSE



 


  




A scelta




  2° 


2nd YEAR




ASTROPARTICLE PHYSICS /

 


HEAVY IONS PHYSICS




TRICOMI A. /




PAGANO A.




FIS/01








Caratterizzante /




Opzionale




1° 




PHYSICS OF ELEMENTARY PARTICLES II /
HADRONIC PHYSICS WITH  ELECTROWEAK PROBES




TRICOMI A. /
BELLINI V.




FIS/04




Caratterizzante /
Opzionale




1° 




FREE COURSE



 


       




A scelta




1° 

 
---
Curriculum: THEORETICAL PHYSICS
Coordinator: Prof. Andrea Rapisarda
---

1st YEAR

COURSE

TEACHER

SSD

DEFINITION

SEMESTER




ADAVANCED QUANTUM MECHANICS 




CASTORINA P.




FIS/02




Caratterizzante




1° 




STRUCTURE OF MATTER




ANGILELLA 
G.G.N.




FIS/03




Caratterizzante




1° 




ADVANCED STATISTICAL MECHANICS




RAPISARDA A.




FIS/02




Affine o integrativa




1° 




NUCLEAR AND 
SUBNUCLEAR PHYSICS




BELLINI V.




FIS/04




Caratterizzante




1° 




QUANTUM FIELD THEORY I





BRANCHINA V.




FIS/02




Caratterizzante




1° 




 QUANTUM FIELD THEORY II




BRANCHINA V.




FIS/02




Caratterizzante




2° 




PHYSICS OF COMPLEX SYSTEMS /




THEORY OF NUCLEAR REACTIONS 




RAPISARDA A. /

 
GRECO V. 




FIS/02




Affine o integrativa /




Opzionale




2° 




INTERACTION BETWEEN RADIATION AND
MATTER




CASTORINA P. 




FIS/01




Caratterizzante




2° 




GENERAL 

RELATIVITY




BENTIVEGNA E.




FIS/05




Affine o integrativa




  2° 




FREE COURSE 


 


 




A scelta




  2° 


2nd YEAR




MANY-BODY THEORY 




ANGILELLA G.G.N.




FIS/03





Caratterizzante 




1° 




THEORY OF  

STANDARD 

MODEL




CASTORINA P. 




FIS/04




Caratterizzante




1° 




FREE COURSE 


 


 




A scelta




1°